PRODUCT AND SERVICE SELECTION GUIDE
The Duly Knowted tools prompt, capture, and organize good information that could otherwise be lost in workplace transitions. Insights, best practices, lessons learned, and practical information about customers and processes are capturable business intelligence. All smart things that a successor and others staying on—need.
TYPES OF TRANSITIONS

Each transition event is unique to a contributor and work context; many are more hurried than we'd like. Our tools support knowledge transfer in six broad transition types: Onboarding, Rapid Offboarding, Extended Offboarding, Promotions and Transfers, Program/Project Completions and Annual Reviews.

Contributors onboarding to new teams or positions benefit from having "maps" of their new territory.

Retirements and career changes usually mean the contributor is leaving the organization—their knowledge is especially vulnerable if they've held unique job roles or hold special expertise that has not been documented.

Knowledge captured from contributors who are "leaving but staying" with promotions, transfers, and leaves of absence—keeps things moving forward as others assume their responsibilities

Teams disbanding post-program or post-project have much to share and should be "debriefed."
FIRST TIME USERS-PURCHASERS!


Give us a call or reach out in an email. We'd like to meet you, and quickly, we should be able to guide you to the best tools and/or services for your situation. Second and third time purchasers, we'd love to talk with you too!
Phone: 702.341.9930 (Las Vegas) | Email: audrey@dulyknowted.com
OUR TOOLS



The tools available directly from this website serve well when your transition window is a short one—even same day. All include instructions, good questions for the departing contributor, and fields for the contributor's comments and notes. They're ready to go.
Use the tools individually or in any combination. Question Sets take a deep dive into a topic; they include approximately 25 questions. Contributors navigate and select the questions they choose. Worksheets ask the contributor to create an annotated list around a specific question. Activity-Discussion Guides include topics for a small group or team discussion prior to the contributor's departure.
Find descriptions of our products here.
View Tool Descriptions

QUESTIONS SETS >>

WORKSHEETS >>

ACTIVITY DISCUSSION GUIDES >>
Make your selections and PURCHASE HERE.
SERVICES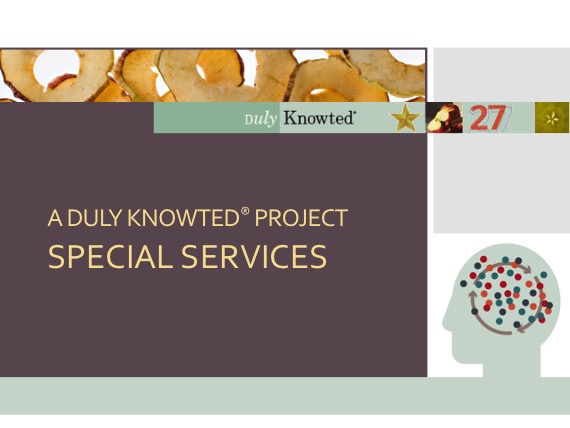 Our services wrap around the tools and deepen the gains.

CUSTOMIZATION
Any of the Duly Knowted tools can be customized—with light edits, or questions provided by your team, or assembly of a completely new tool. Customized to your industry, your company, special projects or programs, or specific contributors. Tell us something about the person or team transitioning and what they've been involved in. Usually within a few days, we're able to create a unique tool for a reasonable fee. We can also suggest worksheets to bundle with the customized tool.
Examples:
+ Our MANAGER tool can be customized to record the insights and best practices of a Senior Manager or Director whose focus and special skill has been building customer relationships.
+ The CONTINUITY tool can take a deep dive into a specific project or program when a team leader or director is leaving.

TOOL BUILDING
Our favorite! We'll work with three-four members of your team in a live or remote workshop to develop a set of capture tools for your ongoing use, customized to your organization and culture.

COACHING
If the transition schedule permits, we'll meet with a contributor by telephone for one or two sessions to talk through tool questions and develop a plan for its distribution. This is a great way to prompt more detailed comments, dive into special skills, or set up training scenarios for team members staying on. If the contributor is already working with a partner, we can coach the pair.