WORKING WITH THE TOOLS – FAQ
Workplace transitions are prime opportunities to collect and connect terrific knowledge and continuity dots. We've done the set up for you! Our tools organize and ask many of the questions you need to be asking—but in the moment, might not think to ask.
The morning after the transition, everyone's clearer on next steps for moving forward!
WHAT WE DO
We optimize transition events with practical, just in time, continuity and knowledge capture tools designed for organizations of all types and sizes.
Our downloadable tools ask questions and prompt comments about who the contributor knows, what they've learned, what's in progress, and what needs to be done next. Comments and responses are entered directly in interactive PDF tools for efficient distribution.
In some transitions, people are actually leaving—walking out the door. Other just as documentation-worthy transitions involve people "changing desks—leaving but staying." Applying our tools makes it far less likely that key information will fall through transition cracks.
Employee Offboarding-
Express


Two Week Notices
Employee Offboarding-
Extended


Retirements-Career Changes
Promotions, Transfers, and Leaves
Program or Project Best Practice/ Debriefs
Annual Reviews and Coaching Sessions
WHY WE STARTED DULY KNOWTED
Because high value information is going untapped. For lack of a systematic OFF-BOARDING process—we observed hard-earned expertise, techniques, best practices, lessons learned—leaving teams and organizations when key employees moved on. Our view is that most organizations would benefit with more attention to off-boarding. Knowledge capture is useful at any time, but vital at transitions.
THE CONTRIBUTOR
The contributor is the person transitioning—sometimes leaving but staying (promotions or transfers), sometimes actually leaving. Contributors use Duly Knowted tools to organize the comments and insights they choose to share.
Who might your contributors be? Just about anyone at some point! Download this FREE WORKSHEET that lets you anticipate who might be in transition mode sometime soon.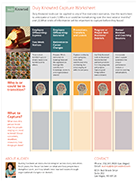 OUR TOOLS COMPLEMENT EXIT INTERVIEWS
Exit interviews serve a good purpose and can be strong feedback tools. Duly Knowted tools complement those interviews with different kinds of questions. Our focus is how the work gets done and what's been learned.
• Duly Knowted tools capture good things with people who are STAYING as well as those who are leaving. Perhaps staying but moving to new roles, new locations, new teams. Exit interviews would not apply in these situations.
• We encourage contributors to use and discuss the tools with partners and colleagues.
EVERYTHING'S A WORK IN PROGRESS
As tool developers, we're committed to revisions, improving our questions, and expanding the topics of our tools. We welcome your feedback and suggestions.
THREE KINDS OF TOOLS
Duly Knowted tools come in three types. Use them individually or in combination to best suit your unique transition situation. Contributors are able to work independently, with a partner, or with a small "committee" of team members.

QUESTION SETS

Presented in interactive PDF format, sets include 22-25 interview-style questions that prompt a contributor to make a short list or respond to open-ended questions directly in the tool you've downloaded. Questions focus on specific topics (for example, Networking) or reflect the contributor's role (for example, Supervisor).


WORKSHEETS

One-two page worksheets ask the contributor to list, prioritize, and/or organize information that other people need. Several of the worksheets focus on the kinds of information the contributor's successor will likely need.


ACTIVITY GUIDES

Instructions, suggestions, and templates for transition activities that could involve small groups or peer committees: e.g., sharing best practices, planning ongoing customer engagement, project handoffs, discussing team member development needs.
SAMPLE TOPICS AND QUESTIONS
Duly Knowted's tools and activities pose conversational questions to the person transitioning, covering a range of topics. Here are a few examples.
TOPIC: The Real Job
What parts of your work, while important, are "thankless?" Briefly describe the parts of your work that no one sees or hears you do.
TOPIC: Moving Forward
What parts of your work deserve more effort than you've been able to spend? Does the work merit more time, more budget, more resources? What other parts of your work might not be worth the time and level of effort you and others currently spend on them?
TOPIC: Marketing-Networking
Who is critical for your organization to establish new business relationships with over the next two years? Suggest four-five individuals, specific companies or types of companies.
ACTIVITY: Works in Progress
What important parts of your work are most vulnerable to falling through the cracks. Who will carry them on? Meet with those likely to be responsible—cover the topics presented in the worksheet.
WAYS TO USE THE TOOLS
We have some great ideas for using the tools! We'll share these with you in a free (and short!!) guide that we'll email following each purchase.
LEVERAGING YOUR RESULTS
Curious about ways to use contributor-generated information after it's been captured? Take a look at our starter list of 27 ways!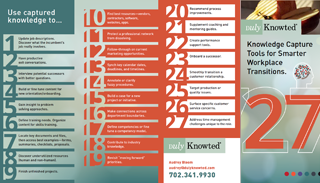 PRIVATE TO YOUR COMPANY
You have no concerns about confidentiality. Your tool and any information collected in it are NOT stored on our server and we have no access to the information recorded. We make suggestions for distribution, but you manage that part of the process on your own schedule.
Our copyrighted tools are designed for one contributor's transition. The contributor works independently, and/or if they choose—with a partner or a small peer group. We actually encourage working with partners!
TIMING IS EVERYTHING!
Transitions can be time sensitive—many are. Our "on-demand," downloadable tools can be applied to transitions planned well in advance as well as transitions that arrive (surprise-like) with short notice.
ADOBE INTERACTIVES
Your purchased and complementary products are downloaded directly to the location you designate on your system when prompted to "Save As."
Tools are delivered in an Adobe Interactive PDF format. Instructions and suggestions are embedded directly in each tool.
If your system or the system of the person completing the tool has not installed the free Adobe Acrobat Reader DC, you'll be prompted to download this first. The download is fast and free.
OPTIONS FOR WORKING WITH US
Don't see the tool you're looking for? Need a customized tool? Want to take a different approach? Let's talk—we have ideas for you. It's likely we'll be able to create something for you quickly—in time to meet your needs.
CONTACT US
We're available during business hours (Pacific time) to chat about the tools you're considering or tools you need but don't see in our menus.
Lets talk about creative ways to use the tools and build good process around them—ways that ensure best possible transitions!

Contact:
Audrey Bloom
DULY KNOWTED LLC
Phone: 702.341.9930 (Las Vegas)